Amanda and The Big Apple
The L'Oreal Soho Academy located in New York City holds a special place in Erin and Jackie's heart, and now for Amanda as well. If you don't already know, Amanda is our 'assistant' but she's more like the 'back bone' of our salon. She came to us in May of 2015 and has come a long way since then! Shampooing your hair, rebooking your appointments, and keeping the day running smoothly are just a few of the many tasks she is responsible for. After completing a full year with us she was able to follow in Erin and Jackie's footsteps to the big apple for her first balayage class at the L'Oreal institute. This is a series of 3 classes in which at the end you are classified as being certified in the art of balayage. We decided it would be the perfect time to have a Q & A session with Amanda on her first experience at the academy, and her first time in the NYC. We are so thankful for her hard work everyday and cannot wait to watch her grow into a great hair colorist.
-How were you feeling going into your first balayage class at the L'Oreal SOHO academy?
I Thought I'd be very overwhelmed, and stressed but once I got there the instructors made me feel comfortable. They were so friendly. I was thankful and glad Erin had done a few one on one classes before my trip, she wanted me to have a basic foundation of balayage, which definitely made me feel at ease.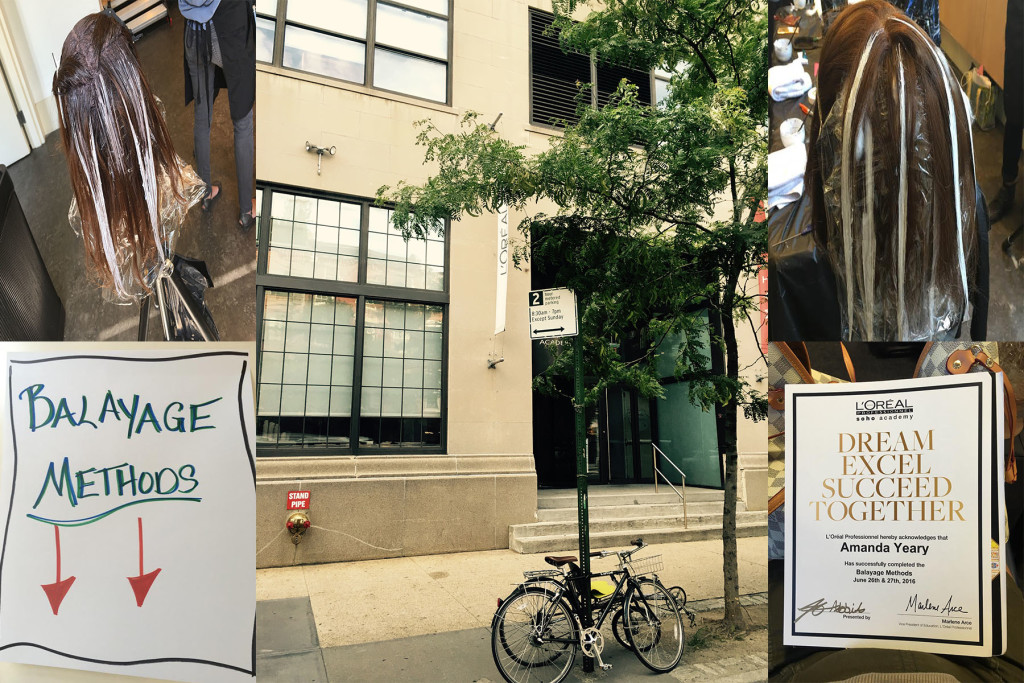 -Did your instructors give you good feed back? Did they give you any great compliments?
Theresa, who was our main instructor , showed me how to saturate each piece so that the hi-lights look even and effortless. That was my 'aha' moment. I think I improved a lot towards the end of my first day especially with my saturation of the product. Abby, who was also one of my teachers also helped me with parting the hair into sections- I don't cut hair so I was a little lost when she spoke about movement and sectioning- so that was good. I got a lot of compliments on my blowdrys from everybody- they wanted to know where my brush was from! (Ibiza number 5 💪🏻) but little do they know it takes more then a brush to be a master blow dryer!

-What was it like being In New York for the first time? Did you get inspired by fashion, hair, or anything on the streets?
Well it was pride weekend so nobody had any clothes on (there was a lack of fashion). It was very fast paced, but i liked it! Other then the class being my favorite part, my mom and I went on a boat tour which was fun because it was at night and we got to learn about N.Y.C. Riding the subway was an experience that I'd like to forget, hah. Next time I would love to see more sights, like the Brooklyn Bridge and The World Trade Center Memorial.
-How do you feel going forward as a future colorist?
I feel more confident about balayge and how to customize it to each client. But I still have a ton to learn and I'm excited to go back! I can't wait to be the teacher and teach Erin and Jackie what I learned in my class!