Once upon a Lob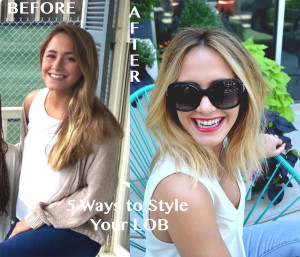 Once upon a lob, there lived a girl who wanted to turn heads, and make a statement, she wanted to feel confident and have all her hair dreams come true! Let's be serious, isn't that EVERY GIRL? Gone are the days where keeping your lengthy locks are on fleek. Look around Ladies everybody is chopping their mermaid hair and trading it in for a super chic lob! We called in the big guns all the way from NYC to make this girls make-over dreams come true. If you have doubts on styling your newly clipped tresses check out this very special transformation blog where we will show you 5 amazing looks that will surely help get alllllll the likes on your next selfie.
Straight Narrow and Blonde
This look is simple and effortless, start out with a dime size amount of L'oreal Professional's Mythic Oil, work that through the hair and smooth with the Ibiza EX 5 round brush. Next up use your flat iron to assure a flawless no bump style. The key is to slightly curl in the ends with the flatiron, making sure to not make it look so straight that you loose the movement and fluidity of the cut! Finish with shine spray for an added glossy affect that will show off your impeccable baby lit and balayaged hair!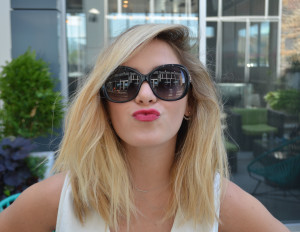 Deep Side Part
For this look think Hair flip times a million! This one is for the girls who are looking for some VaVa Voom volume. Because you are essentially over directing your hair from its natural part you are creating a shape its not use to so it immediately makes big hair for days!!! Can I get an Amen? This style highlights the front hairline aka "the money piece". This look is best a wee bit dirty, and we are willing to share our latest secret product with you – lots and lots of Joico Hair Shake is essential when adding texture without grit. You can thank us later!
The sibling to the deep side part! The "just flipped for no reason but it looks good part"
Try tucking or braiding the side with less hair- behind your ear if you are going for something more polished and hi fashion, the silhouette of the one side tucked makes for a great side profile selfie!
Soft Waves, Beach bends, I woke up like this Hair, Whatever you want to call it!
We recommend the Sultra Bomb Shell 1" wand to create these surfer girl inspired waves! The key is to keep the ends on the straight side and only wrap the hair around the wand 1 to 2 times. This will create more of a bend and when your all done, flip your head over and spray like there is no tomorrow! Our recommendation- Joico Hair Shake (life changing, kinda like the Starbucks mobile app).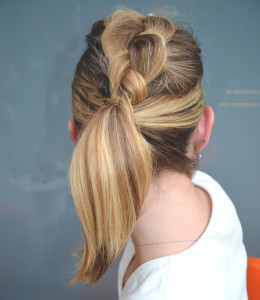 Braided Mohawk to Pony
Why not? This style is literally for any occasion, think gym chic to red carpet worthy. We love braids for showing off dimensional hair color, which Balayage is known for.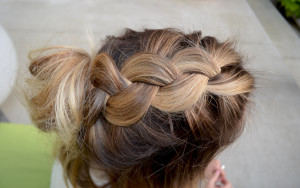 Braided knot Halfie
We like to jazz up the always popular half up top knot. Adding the braid makes it look like you actually put some time and effort into your hair but its relatively easy to recreate. This look, like the braided pony, show cases the color in the braid but also incorporates the depth you get when your hair is falling naturally! Its a win win for us! Pro tip after braiding secure with an elastic and gently pull apart the braid, this creates a more voluminous braid. To see more images from this photo shoot click here!
Hair Colour by Erin Andrews Wervey for Andrews Colour Atelier
Cut and Style by Lisa Caccavale
Make-up by Jessica Heber Miller
Model- Cameron Bell