What did the Dyson hair-dryer say to the regular hair-dryer?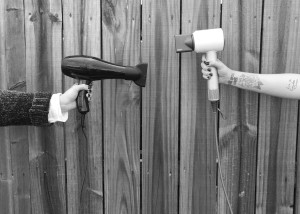 What did the Dyson supersonic hair-dryer say to the regular hair-dryer???
-You blow
Hahahahahahahahahahahahaha had to do it!
So the wait is over, gather around hair nerds and clients for our long overdue review on the Dyson Supersonic Hair Blow-dryer. First things first let's talk about the one thing on everybody's mind; is it really worth that whopping $399.00 price tag?!?! To sum it all up $399.00 is for some, the equivalent of 3 weeks of groceries for a small family, it's 133 grande size iced coffees from Starbucks, or 1 pair of Frye boots. Basically we can't say something is worth it for you to buy if we don't have the same wants and lifestyles. Erin, Amanda, Lisa (our celeb stylist from NYC) and I came up with a top 10 list of reasons why we are obsessing over the Supersonic Hair Blow-dryer. And because this is a REAL review we do have a few suggestions to make it better but that's a small list.. 😉

Top 10 reasons why we love the Dyson Supersonic Hair Blow-dryer!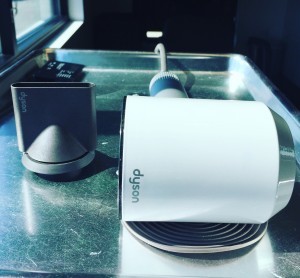 1.) Its quiet enough that you can still listen to the soundtrack to Hamilton…or any other musical selections you like for Erin it would be gangsta rap!
2.) It's light enough and more comfortable to grip/hold than the standard blow dryer. (Can't skip arm day at the gym anymore)
3.) The 4 heat settings and 3 speed levels are amazing and keep the integrity of your hair in check. AKA-no more burning the hair.
4.) It's fast and will DEFFFFFF cut your blow-time in half if you are 'rough drying' your hair. Meaning; in a time crunch and don't want sopping wet hair? Grab the Dyson for a quick dry
5.) It's diffuser attachment is MADE yes MADE for taming curly, wavy, frizzy hair peoples tresses, trust us!
6.) It's not big and bulky to travel with compared to the regular dryer, and much more modern and sleek!
7.) It's basically a smart phone without the annoying side affects #notenoughstorage ring a bell?!? It can literally measure air temperature every 20 seconds to keep the temp in check at all times #mindblown
8.) The three different nozzles attachments are magnetic, so taking them on and off is a breeze and adjusting them is super easy.
9.) Big ups to Dyson for magically making a blow dryer that doesn't heat up and burn your hand while using it.
10.) The filter is at the very bottom of the dryer where your hand goes so it makes it easy to clean out. Long haired beauty's say goodbye to getting your mane caught in the 'grill' aka the filter which is usually at the back of the nozzle, now it's in the handle #smart
Our suggestions for Dyson
-While the dryer was designed to be lighter and ergonomically sound there is one flaw.  In our opinion that would be the cord. It's thicker and wider and a tad shorter than what us stylists are used to. It makes holding the dryer a bit disproportional, and working around a styling chair difficult, as the cord gets wrapped around the base.
-This definitely is a game changer but it won't make up for your lack of skills when it comes to blow-drying. Like all things practice makes perfect.
-We agree that it is pricey but how could it not be, they totally reinvented the hair blow dryer- that's had the same style since it became a household item in 1920….we just think that you should for sure be able to use your bed bath and beyond coupon on it. Right?
In the end guys the decisions is up to you, hopefully this guide helps you out! Whether you decide to sip the koolaid by getting one or not, us at Andrews Colour Atelier use the Dyson Supersonic DAILY and we would love to use it on your lovely locks after your Colour or cutting service or for just a walk in blow-dry experience. We will always be striving to be the top resource for you on what's new and noteworthy!